The Inclusive Church Resources
Thursday 31st July 2014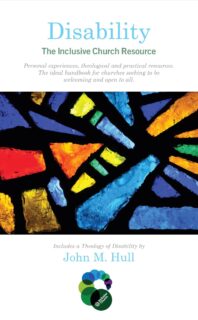 Here are two new books from one of our partner organisations. They are designed to help churches be more inclusive; one concerns people with disabilities; the other people with mental health issues.
Disability: The Inclusive Church Resource by John M. Hull
Mental Health: The Inclusive Church Resource by Jean Vanier and John Swinton
These two books are the first 2 in a 6 part series, that will also tackle issues of poverty and sexuality (to be published in November 2014), as well as gender and ethnicity (to be published in March 2015).
Both are written to help churches everywhere to be equipped to welcome all people who live with disability or a mental health issue. Each title contains first-hand personal experiences of people who have felt excluded from churches because of either their disability or their mental health, theological reflection, resources, addresses, websites and practical advice for making churches more inclusive.
ABOUT THE CONTRIBUTORS:
John M. Hull, who is blind, is Honorary Professor of Practical Theology and Mission for the South East Institute of Theological Education. Jean Vanier is Canadian catholic philosopher, and founder of L'Arche International, and John Swinton is Chair in Divinity the Religious Studies at the University of Aberdeen.
The series editor is Revd Bob Callaghan, National Co-ordinator of Inclusive Church.
For all enquiries, to discuss author interviews or features and/or to request a review copy, please Will Parkes at willp@darton-longman-todd.co.uk, tel. 02088 75 2811.
Disability: The Inclusive Church Resource - Paperback (198x126mm), 128pp, 978-0-232-53065-0, £8.99, 24 July 2014
Mental Health: The Inclusive Church Resource - Paperback (198x126mm), 128pp, 978-0-232-53066-7, £8.99, 24 July 2014