Supporting refugees in the UK, Part 1
Monday 3rd July 2017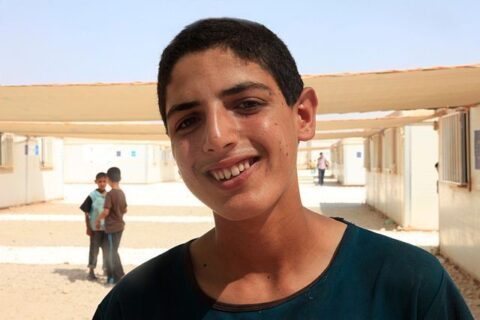 How easy is it for individuals to provide hospitality and a welcome to refugees coming to Britain? Over three articles, Andy Vivian takes a look at some of the opportunities available. In the first he looks at providing a room for a refugee.
In the UK, asylum seekers who reach our shores usually have their housing provided by the state while they are claiming asylum. New arrivals are put into hostels in London for a few days and then moved to Home Office accommodation around the country....
If they are subsequently granted official refugee status, they become entitled to claim housing benefit and, with help from voluntary agencies, most transfer successfully from their Home Office accommodation into some kind of the private sector rental.
But that still leaves the many who are refused asylum at the first attempt and these are the refugees likely to need your help to put a roof over their head, since they are required to leave their Home Office accommodation within 25 days and are not entitled to housing benefit, even while going to appeal.
There are at least two national organisations that make use of host families to provide homeless refugees with a room and hospitality. There is Room for Refugees, which is the longest running refugee hosting scheme, taking referrals from a number of asylum advice agencies, including the Red Cross. They match guests and hosts using an online system, in which you'll be asked to provide photos of yourself and your family as well as the room you are offering. Another is Refugees at Home which started in October 2015 and has handled 580 placements since. They come to visit you before taking you on.
If your interest is specifically Syrian refugees, there is a voluntary agency called Homes for Syrians. Unlike the two above, they focus on those who have already gained official 'status' – usually in the form of the right to remain for five years. Homes for Syrians will send a case worker to check you out and follow up references. The charity works only with Syrians who get here under their own steam, not those which arrive as part of the Government's official resettlement programme.
All three organisations provide information packs covering FAQs such as house rules, home insurance and financial responsibilities. You are likely to be asked to host your refugee guest for between one and six months. In some cases you will be assigned a case-worker who can help iron out difficulties.
There are other hosting agencies which operate only in specific cities. A year ago the Guardian published an article listing a number of them such as the Boaz Trust in Manchester. However, such has been the number of volunteers coming forward, that Boaz is no longer taking new registrations. Another city based example is the Bristol Hospitality Network.
A different way in which you could be asked to host refugees – younger ones - is through Nightstop, a charity which provides emergency accommodation for young people who need a roof over their head. The age range is 16-25 and accommodation is provided for short periods, often just one night. Nightstop is a charity that I am involved with and I have twice been asked to take a young male refugee.
Finally, there are a lot of unaccompanied children arriving in the UK from Syria and elsewhere. These children need more than a roof over their head. They need foster parents. Volunteers with experience of helping traumatised children or who can speak the mother tongue of these children are particularly wanted. You can apply to your local fostering authority – which is quite often your local metropolitan or county council. You could also contact Home for Good and The Fostering Network.
The next installment will look at how to volunteer your help to the many agencies and welcome committees helping to settle refugees
Image: By DFID - UK Department for International Development (Educating child refugees in Zaatari camp) [CC BY 2.0 (http://creativecommons.org/licenses/by/2.0)], via Wikimedia Commons