Rousing finale to Faith lectures at Rawtenstall
Thursday 25th April 2019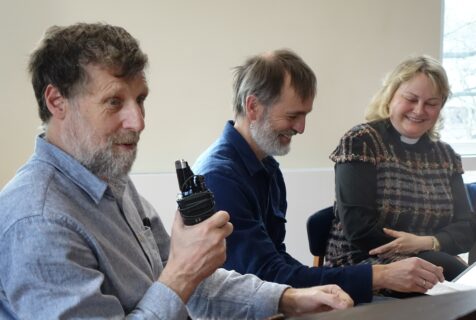 More than 70 people came to Rawtenstall Unitarian Church in Lancashire on Saturday 23rd March to hear the eminent ecologist and writer Alastair McIntosh deliver a rousing address on the question: Does Christianity still matter, and if so, why?, the final lecture in a series considering 'The Future of Faith', writes Jim Corrigall.
Under the title, 'Towards Third Millennium Christianity: Activism, Non-Violence and the Mystical Imperative', the lecturer led his audience through the often-violent history of two millennia of Christianity, with learned asides into other faiths.
A Quaker and radical pacifist, Alastair McIntosh argued that if we are to rescue Christianity from what he called 'the fear-driven dynamics of violence and domination', we need to address the ostensible 'divine violence' of theories of the cross, of doctrines of salvation. Only then will it be possible, he argued, to open up a credible Christian theology for this Third Millennium.
In a wide-ranging talk, the speaker attempted to do precisely this … concluding with a deeply-felt meditation on the meaning of the cross -- could we have been missing its real significance all along? His talk was profound, moving and provocative in turn.
Workshops for group discussion followed, then questions to a Panel consisting of: Alastair McIntosh, Rev Dr Shannon Ledbetter (an Anglican priest and theologian now working with the Unitarians) and Dr Ben Dandelion (a Quaker theologian). The event was chaired by Rev Jim Corrigall, minister to the Lancashire Collaborative Ministry, which organised this lecture series together with Pendle Hill Quakers and the Progressive Christianity Network.
NOTE: The full text of the lecture is to be published in the coming issue of the Unitarian theological journal 'Faith and Freedom', due out at end of April 2019. To subscribe, contact Business Manager Nigel Clark at: 16 Fairfields, Kirton in Lindsey, Gainsborough, Lincolnshire, DN21 4GA, or at: faithandfreedom@btinternet.com. (Annual subscription in the UK is £15).