Make the church Jesus shaped!
Thursday 27th September 2012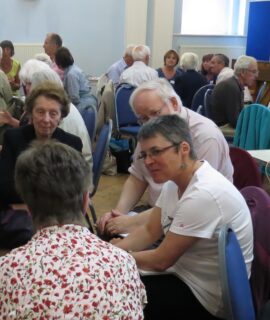 PCN Britain, at its autumn conference in London, heard one of its leading voices appeal for churches to pay more attention to the kingdom teachings of Jesus.
Adrian Alker is a pillar of the Church of England, Director of Mission Resourcing in the Diocese of Ripon and Leeds. But he wasn't giving the church an easy time in this set of four talks entitled, A Jesus Shaped Church, Christian Shaped Lives.
He appealed for the church to be less focused on its doctrinal certainties and more willing to explore what has been called 'lived Christianity'. He called for Christians to be open to re-explore what they really believe in. "Like Brian McLaren, I do not wish to be a 'vampire Christian', recruiting Jesus for his blood to manage my sins. Rather I want Jesus to recruit me to be his disciple, that is, I want to have the same passions for the kingdom of God on earth as Jesus had." He presented his vision of what a Jesus focussed Christian community would be like and he appealed to those tempted to give up on the church not to try to go it alone. "I don't want a Back to Church Sunday initiative", he said, "I want a come and journey with us Sunday. I want a church where we explore the Bible and ask How is this the Word of the Lord for us today?".
You can hear two clips from the conference here
You can read the scripts of Adrian's four talks here
You can view a small photo-gallery of the event here
A recording of all four talks is now available as a double CD in the PCN on-line shop.
The conference was also the occasion for the launch of a new PCN leaflet, part of its initiative to engage churches in a more progressive agenda. The leaflet is titled "Helping churches to celebrate a 21st century faith". It offers to provide PCN resources including visiting speakers, materials for group study, and copies of the quarterly publication, Progressive Voices.
You can view pages 1 and 4 of the leaflet here and pages 2 and 3 of the leaflet here
Copies of the leaflet can be obtained free from the PCN shop (pay only postage) or from the PCN Office, 26 High Street, Newnham, Gloucestershire, GL14 1BB