Lost Certainties
Monday 17th June 2013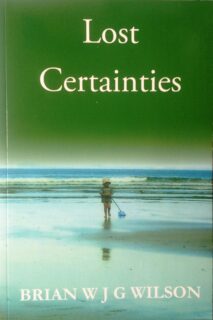 PCN Britain is pleased to be able to offer this recent publication at a reduced price.
In this new publication, through the medium of essays and letters to friends, Brian Wilson seeks to give an account of the evolution of his own faith and explores the dilemma, which he shares with many modern Christians, of how to reconcile a rational and educated modern mind with the largely mythological faith still propagated by the traditional Church. He makes no claim to having the answers. But he firmly believes that if those who are sympathetic to the Christian faith can bring themselves to recognise those elements of faith which modern scientific knowledge and biblical scholarship have rendered untenable to the modern mind, it will help them to rediscover the true value of the teaching of the historical Jesus of Nazareth, who was transformed by centuries of theological argument into the Christ of Faith. Religion, he argues, is not just an intellectual construct; but without a solid rational basis, it is as a house built upon sand.
With two archbishops, a bishop, and a monsignor in his immediate ancestry, he has found it as difficult to abandon the faith of his fathers as it is to accept the traditional teaching of the Church in the face of what we now know of Biblical scholarship, the early years of Christianity within the Roman Empire, and what modern science has told us about creation, and the evolution of our species. We are not fallen angels, he argues, but risen apes. He has found many friends and colleagues, both in his own teaching profession and further afield, who have had similar problems of belief. This book contains a selection of his essays and letters written for them. Brian is also a lover of poetry and one section of the book provides an illustrated guide on how poetry can be used as a pathway to God. This is a paperback of 214 pages.
Author: Brian Wilson is a classical scholar of Christ's College, Cambridge, for whom theology has been a lifelong interest. He taught in several leading independent schools, (Radley College, King's Canterbury, and Eastbourne College), before becoming Headmaster of Campbell College, Belfast during a challenging period of educational and civil disturbance. The evolution of his increasingly radical view of the faith of his church will disturb traditionalists, but may encourage those of a more progressive disposition, who like him still wrestle with their faith. Brian has been a member of PCN Britain for seven years and has served as a member of the PCN executive.
A further review of this book can be found in the March 2013 edition of Progressive Voices. It can be purchased from the PCN online shop at a cost of £5.35 (cover price £9.95)