Inclusive Church completes its series of six resource books for churches
Wednesday 8th April 2015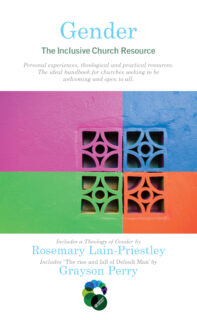 Here are the final two books in an excellent series from our partner organisation, Inclusive Church.

Gender: The Inclusive Church Resource - Paperback (178x110mm), 128pp, 978-0-232-53069-8, £8.99, 8 April 2015.

Ethnicity: The Inclusive Church Resource - Paperback (178x110mm), 128pp, 978-0-232-53070-4, £8.99, 8 April 2015.

Middle-class, white, heterosexual and middle-aged – Grayson Perry's archetypal 'Default Man'. The man who punches well above his weight making up perhaps just 1% of the World's population, but it is largely through him that the world is defined and values are set. Writing in Gender: The Inclusive Church Resource, Perry clearly and concisely underlines why there is as great a need as ever to scrutinise, understand and in some cases be wary of male power – in the work place, at home, in church, and to recognise objectivity as male subjectivity; it has become hard to 'unpick' the thoughts of 'Default Man' from what is deemed 'proper, right-thinking'. With the Church of England having only recently appointed its first female bishop, the Rt Revd Libby Lane, it remains important to ask the question: 'How many default men hold power in the Church today?'

In the theology section of Gender: The Inclusive Church Resource, Rosemary Lain-Priestley talks of 'widening God's tent', and asserts that theology of inclusion has a 'very clear biblical basis', citing in particular Jesus' radically inclusive relationships with the poor and marginalised of society. Indeed, the aim of the Inclusive Church Resource Series could best be summed up in these ways. There are six books in the series which has covered mental health (including a contribution from 2015 Templeton Prize winner, Jean Vanier) disability, sexuality and poverty, and now tackles gender as well as ethnicity.

Writing in Ethnicity: The Inclusive Church Resource, theologian Michael Jagessar remarks how Britain is now a nation of nations with the 2011 Census reporting 20% of Britain's population coming from an ethnic background other than White British, and explores what in reality it means for the body of Christ to live out the good news of abundant life for all in our 'multi-everything world'.

Both Gender and Ethnicity contain stories and shared experiences from people living in today's 'multi-everything world', including those of Chine Mbubaegbu, director of communications at the Evangelical Alliance. She recounts a story that illustrates there is still work to be done in terms of encouraging the Church as a whole to be more inclusive and to think in a more inclusive way. While working for a para-Church organisation she was asked about a wider Church issue 'what would black majority churches think?' The assumption being that she would respond on behalf of black-Christian-kind, that because of her ethnicity she attended a black majority church, and that in the subconscious mind of the person posing the question the Church remained divided somewhere along ethnic lines.

To reiterate, in essence the Inclusive Church Resources are written to help churches everywhere to be equipped to welcome all people and to bridge any divide that may exist on grounds of ethnicity, gender, sexuality, poverty, disability or mental health. To this end and in addition to the stories and experiences of today, as well as theological reflections, each title contains a resource section with addresses, websites and practical advice.

Bob Callaghan, National Co-ordinator of Inclusive Church, is the series editor.