Being Honest to God - the conference talks in print
Thursday 26th June 2014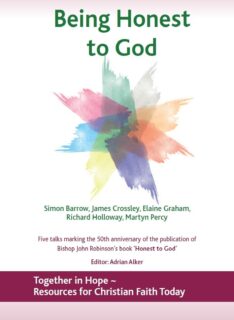 July 1st 2014 saw the publication of five talks given to the joint PCN Britain and Modern Church conference marking the 50th anniversary of John Robinson's book, Honest to God. The conference took place in November 2013 at The Hayes, Swanwick.
To purchase this book
As a serving bishop in the Church of England, John Robinson dared to ask the big questions which ordinary churchgoers may have asked themselves but which had rarely been voiced beyond the academy. Robinson asked his readers to think about their image of God and the significance of Jesus. Since 1963, this quest for the 'real' Jesus has continued with increasing vigour. But then what are the implications of this rethinking for the conventions of prayer and worship? And if God is to be revealed primarily in the love and compassion of Jesus as much as in the revealing of God's self in the prescriptions of the Law, what does this say to our grasp of morality, of ethics?
The Conference was never intended to dwell on the past, to see the 1960's as some kind of liberal interlude when the church might have 'come of age'. Rather our speakers and their talks reflect our contemporary situation in the UK at the beginning of this third millennium. By being honest about the present and learning from the past we might be better placed to face, as religious seekers, an unknown and uncertain future.
The speakers were
Prof Elaine Graham of Chester University is the Conference Chair and will begin the conference with a talk entitled "Being Honest".
Richard Holloway, formerly Bishop of Edinburgh and well known for his writing and broadcasting as well as his work in the arts will give an after dinner talk on the theme "Being Honest about God".
Canon Dr Martyn Percy, Principal of Ripon Theological College, Cuddesdon will invite the conference to be Honest about the Church.
Prof James Crossley, from the Biblical Studies Department of Sheffield University will speak to the title: "Being Honest about Jesus".
Simon Barrow, Co-Director of Ekklesia, will encourage discussion on topical ethical themes, with an invitation to be Honest about Ourselves.
Being Honest to God is the sixth book in the Together in Hope series of study guides. All six books are available in the website shop and can also be ordered from the PCN office. This book will be available from July 1st. Together in Hope is a joint project run by PCN Britain, Modern Church, Free to Believe and St Mark's Centre for Radical Christianity. The series editor is Adrian Alker, vice chair of PCN Britain.
More details of the book
In the first talk Elaine Graham, who also acted as chair of the conference, sets the scene, the background of Robinson and his book 'Honest to God'. She explores the main threads of Robinson's argument, crystallized in his comment to the Sunday Mirror of April 1963, 'If Jesus Christ means anything, he means that God belongs to this world.' Graham goes on to frame the essence of Robinson's thinking within the context of today's changed cultural and religious landscape.
In responding to Jesus, 'the Man for Others', James Crossley has some sharp and revealing arguments to bring to the discussion about studies of the historical Jesus. Just as Robinson attempts to tease out for his readers the Bonhoeffer question, 'What is Christ for Us Today?', so Crossley pulls no punches in his critique of many Jesus scholars whose construction of Jesus, he claims, more honestly reveals the neo liberalism of contemporary capitalism. Crossley begins his talk by quoting a 'curious equation' of A. Badiou, that 'Jesus plus Paul equals Marx plus Lenin'!
In his talk, Martyn Percy draws upon his deep knowledge of the Church of England in particular to lay down challenges for the church and its leadership today. Percy draws out a distinction and difference between seeing the church as an institution and regarding it as an organisation. If thinking about the latter leads to an over- emphasis on growth and management speak, on administrative and managerial processes, where will we be able to discover that talk about, and experience of, the God revealed in the Man for Others, of which Robinson spoke and which excited the faithful hearts of churchgoers in his day?
Simon Barrow has a long experience of contextualizing Christian faith in the light of contemporary social, economic and political thinking and raising questions of personal and corporate ethics thereby. In his talk, Barrow asks us to look more reflectively into our own hearts and minds to discover indeed those truths that might set us free but which might also be too much to bear. In attending to the church as an institution which might be a truth bearer, Barrow looks to George MacLeod, the founder of the Iona Community to wonder how local congregations can be reshaped into communities of transformation, touching upon Robinson's hope that the Church might always be subjected to the judgement of the Kingdom.
Finally in a gloriously enjoyed after-dinner talk, Richard Holloway brought us back to think about God in his own erudite and radically honest way. In telling the story of a woman refusing a gay couple a bed in her lodgings, Holloway expresses respect and even affection for those who are faithful to a tradition which can nevertheless render people cruel. The cruelty stems from that type of faith which refuses to face up to the honest truth that the history of God, the very idea of God is one of constant flux and change. In some ways Richard Holloway, like John Robinson before him and others such as Jack Spong and David Jenkins represent those who have been appointed to high office in the Church and have kept alive the spirit of critical thinking and honest enquiry. Therein are grounds for hope!
Adrian Alker, June 2014