Applications are invited for the position of Minister of the Word St Michael's Uniting Church, Melbourne, Australia
Thursday 10th January 2019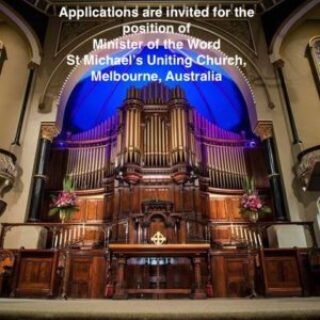 An opportunity exists to lead and guide a receptive congregation, in a prestigious city church to its next phase of spiritual growth and development.
The congregation of St Michael's is looking for a minister who embraces contemporary, progressive Christian theology.
St Michael's enjoys a vibrant arts and music program which is integral to Sunday services and other scheduled events.
You must be a very well researched and inspiring preacher who understands the opportunities a well-resourced church can offer.
You need to demonstrate:
* Strong leadership ability and dynamic communication skills.
* Your ability to inspire, energise and facilitate growth and commitment in the congregation, the life of the Church and its missions locally and globally.
* A commitment to ongoing theological education, integrated with knowledge of other disciplines and contemporary thinking including promotion of psychological health.
* How you have supported pastoral care initiatives, with insight into emotional and spiritual support.
* Your experience, creativity and innovation in the development, management and evaluation of community projects.
* Your capacity to work collaboratively with others in the Uniting Church and beyond.
* Understanding of the dynamics of a city Church where all are accepted, and there is focus on the worth and dignity of every human being.
St Michael's is a unique church in the heart of the city. Unique for our relevant, contemporary preaching that embraces inner wellbeing as our core message.
Sunday services include a mix of traditional and modern presentations. Inspirational music is integral, and most Sunday services include guest musicians, who perform in-between readings.
St Michael's offers a wide variety of experiences for growth and change. It is a place which affirms and encourages the best expression of who you are and who you can be, not only through the Sunday service but numerous wellbeing programs and our commitment to counselling and psychotherapy.
We believe faith, spirituality and a meaning to life are vital ingredients for our health and wellbeing and that there is a need to get hold of a more authentic religious understanding and to express it more confidently and diversely.
Applications Close February 27th 2019
For further information or to apply please contact:
Rev. Sue Withers, Placements Secretary St Michaels Uniting Church 120 Collins St, Melbourne, 3000 PH (03) 9654 5120, FAX (03) 9654 3863 EMAIL: placements.secretary@victas.uca.org.au WEB: www.stmichaels.org.au