The meaning of Christmas
Wednesday 18th December 2013
Michael Wright explains how the Christmas stories are still relevant to him, even though he no longer believes it happened like that.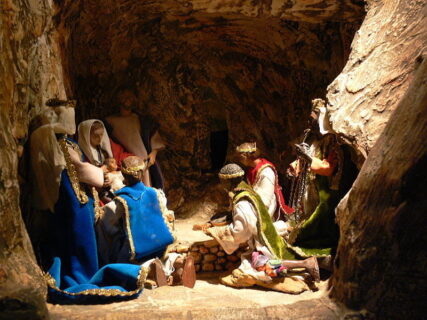 We have long loved the Christmas stories – depicted in our carols and on our Christmas cards. They are lovely - childhood experiences that have entranced us for a life-time. What do we make of them today – for now we know that these romantic stories are beautiful fictions? They are not true stories: but many people believe they contain important truths.

At the time these stories were written, it was common practice to enhance the status of any significant figure with wondrous stories of their birth. Jesus became so significant a man, who made such an impact on the lives of many of those who met him, and others who came to be his followers after his death, that the gospel writers wanted to give him stories about his birth, suitable for his stature. They were written to tell the world how really marvellous he was. What a great job they made of it!

What is truly remarkable about Jesus, is not what happened when he was born, but that a peasant boy from remote rural Galilee, became such an outstanding religious figure – teacher, healer, exorcist – whose teachings opened a whole new world of understanding about religion, relationships, and ways of living, and 2,000 years later, he still has billions of followers.

His teaching, lived at its best, is seen in the life of a person in our own day like Nelson Mandela. We all know many others whose lives have been transformed by following Jesus - living out his teaching at its best in loving, compassionate, creative, self-sacrificing lives, enriching the lives of others, and society at large, and also addressing the dark, sad, and indeed cruel aspects of life.

But some who follow Jesus distort his message, so that it is judgmental, life-limiting, and potentially destructive, as apparently depicted in the new film "Philomena".

But what can we make of the Christmas stories now?

• Faith is not "believing the unbelievable". It is being committed to ways of living that are good and gracious, loving and giving, peaceful and tender, compassionate and courageous.

• Faith helps us deal with the dark side of life – the horrific murder of children typified by Herod's order, for example – without losing all hope.

• Joy and celebration are very much part of the life that Jesus inspires.

• The nativity scene is one of physical poverty – but emotional richness.

• The drama of the visitors to the stable bringing gifts, challenges us in the words of Christina Rossetti:

If I were a shepherd – I would bring a lamb

If I were a wise man – I would do my part

Yet what I can I give him – give my heart.

• Reflecting on all these things, as Mary is depicted doing, treasuring them in her heart, is the basis of the transformed life – for each of us.