Not what I came for…but
Tuesday 16th October 2012
The 2012 PCN Britain annual residential weekend took place at the Hayes, Swanwick at the beginning of May. A small photo gallery of this event is available in the Resources section under Photos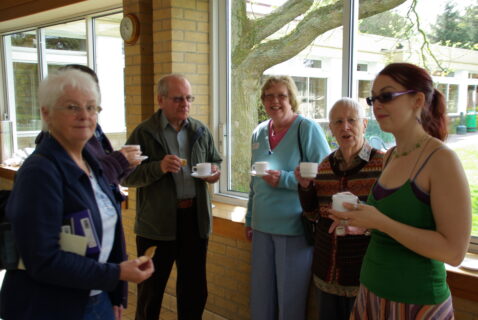 ​This gathering proved to be an amazing transforming experience in so many ways. Perhaps it was not what the participants were expecting. When PCN groups gather around the country the discussions are mainly cerebral. As one participant put it after the first session on the first evening, 'This is not what I came for. I expected to have deep theological ideas poured into my head.' Afterwards she wrote, 'I thoroughly enjoyed the weekend and have come home inspired and refreshed....'
​The weekend was facilitated by Rev'd Mark Townsend, priest, member of the Magic Circle, writer and leader of retreats. Mark's book, 'The Gospel of Falling Down' formed the background to the sessions. As the 29 people of several denominations, and some of none, met for the six sessions over the weekend, the recognition that the treasure that we search for is already within us, proved both healing and encouraging. As we looked at the stones we each had chosen at the beginning of the first session and spoke about them it became clear that through our own imaginations we are our own teachers and the treasure is within. The journey we are on is a journey to ourselves and an awakening to the present moment. The story of The Prodigal Son figured prominently and so did a cracked clay pot. The realisation that failure can be creative and transforming was a strong message which came out of our exploration within the sessions.
PCN local and regional gatherings are good at considering the words of twentieth century liberal theologians and how we might live out the gospel in the twenty-first century, but the conference extended that by offering us a chance to explore a contemporary spirituality. Another participant wrote afterwards that the conference had been both 'reassuring and thought provoking at the same time'.
As Jenny, the youngest participant, put it:
'I was amazed at the atmosphere of inclusion, warmth and honesty that I found on the weekend. The safe space facilitated by Mark and created by all of us meant we were able to tell our stories and be heard. It was great to have some time talking about spirituality as well as theology.'
All in all it was 'another great conference' and 'a wonderful weekend'. After the final liturgy grateful thanks were given to Mark for his gentle and incisive leadership.