Brian McLaren speaks about his UK tour this October
Monday 11th July 2016
In this video Brian McLaren explains why the church needs to stop being protective of its nostalgia and to start dealing with the way religious institutions have contributed to division and strife. In the end, he says, justice, joy, peace and the Holy Spirit are what matter.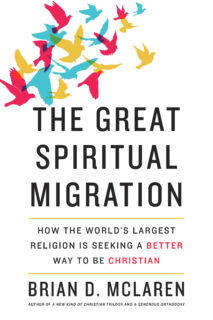 Brian McLaren will be speaking in Harrogate on Saturday October 15th. This is the last of eight venues, starting in London on Saturday October 8th.

At each venue there are three ticket prices
Standard ticket
PCN Britain member's (or CRC) discount ticket. (Are you interested in membership?)
Full time student ticket. (Students will be asked to provide the name of the institution they attend).
At the London venue, there is a further option to buy a ticket for the evening session only.
Sat Oct 8th: London, Oasis Church, Waterloo, SE1 7QP, Day sessions from 11am. Evening session: 7.30pm. Tickets (all sessions): £25, £20, £10. Evening alone: £8
Sun Oct 9th: Exeter, Mint Methodist Church Centre, EX4 3AT. Afternoon conference from 1400, Tickets: £10/£8/£5. Evening 'Holy Ground' service at the cathedral starts 1900, open to all.
Mon Oct 10th: Cardiff, City United Reformed Church, CF10 3BZ, at 1930, Tickets: £10/£8/£5
Tue Oct 11th: Birmingham, St Martin in the Bull Ring, B5 5BB, at 1900, Tickets: £10/£8/£5
Wed Oct 12th: Largs, Ayreshire, St Columba's Parish Church, KA30 8LX, 1930 Tickets: £10/£8/£5
Thu Oct 13th: Manchester, The Cathedral, M3 1SX, at 1930, Tickets: £10/£8/£5
Fri Oct 14th: Newcastle, St Thomas the Martyr, NE1 7PF, at 1900, Tickets: £10/£8/£5
Sat Oct 15th: Harrogate, St Mark's Church, HG2 8AY, Sessions start at 1030. Tickets: £20/£17/£5
Tickets can be booked online here. Alternatively, you can pay by a cheque made payable to PCN Britain, which should be sent to PCN Britain, 26 High Street, Newnham, Gloucestershire, GL14 1BB. Please be sure to say which venue you are buying for and to give the name(s) of those attending. If buying a student ticket you should also give the name of the school or college attended. Student tickets are intended for full time students. Bursaries are available and you will find an application form here